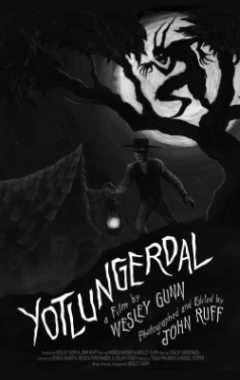 Yotlungerdal
12:00 PM
Director: Wesley Gunn
GENRE SHORTS PROGRAM A-25
When the new Nightwatchman falls asleep on the job, a mysterious creature creeps into his village and steals a baby. The Nightwatchman must lead a madcap midnight search to retrieve the infant, lest the child never be heard from again.
Yotlungerdal is a short, black-and-white, silent film, inspired by German Expressionist films of the 1920s. Shot predominantly in the chilly autumn foothills of Southern California, it features a talented cast of actors, and fantastical elements made possible by a group of hardworking artists and craftspeople.
The film is parts light horror, adventure, and comedy. Suitable for most adults and children.
Los Angeles Premiere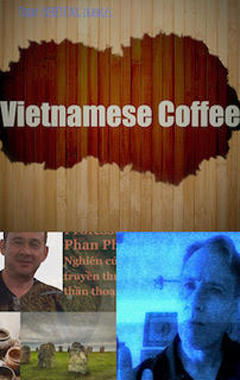 Vietnamese Coffee
12:00 PM
Director: Joseph Francis
GENRE SHORTS PROGRAM A-25
Joe, a former musician, has attempted for move on from the drowning death of his son. He is addicted to Vietnamese Coffee, which he orders online and drinks while teaching ESL at night. After learning he has an inoperable brain tumor, Joe decides to spend his final vacation in Ho Chi Minh City. Here, he discovers the mythical "Black Turtle," a rare Vietnamese legend with the power to heal and sometimes kill.
HRIFF Premiere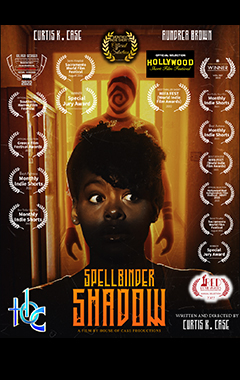 Spellbinder Shadow
12:00 PM
Director: Curtis K Case
GENRE SHORTS PROGRAM A-25
Monique comes home to find out that her world is an illusion or maybe not? As things move along with her appointment with Dr. Billings, Monique finds herself going down the rabbit hole not knowing where it goes. Will she be able to come back with her sanity intact or keep falling into darkness.
HRIFF Premiere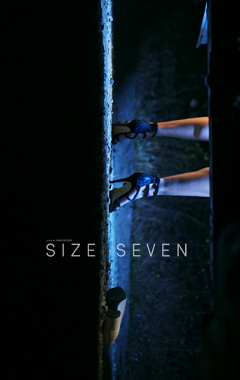 Size Seven
1:00 PM
Director: Mina Rhodes
HORROR SHORTS PROGRAM B-25
In this darkly funny, quietly nightmarish short film, a shy young woman's night out with friends leads to an act of vicious, petty cruelty.
HRIFF Premiere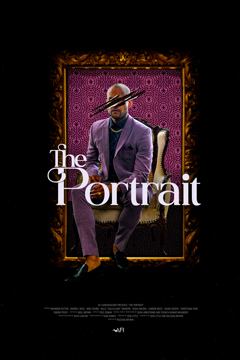 The Portrait
1:00 PM
Director: Razzaaq Boykin
HORROR SHORTS PROGRAM B-25
Accomplished fashion designer Dorian Gray celebrates the five-year anniversary of his clothing line 'The Gray Collection'. He's waiting for the arrival of Cornelius Black, a famous fashion designer, and Dorian's career aspiration. Cornelius wants to finalize a deal buying the Gray Collection from Dorian, who has reservations. Sybil Vane, the photographer, and Dorian's on-again/off-again girlfriend want to prevent Dorian from selling out. Torn between his dreams and his true love, Dorian is haunted by a transforming portrait that only he can see. Dorian's biggest night will soon become his worst.
HRIFF Premiere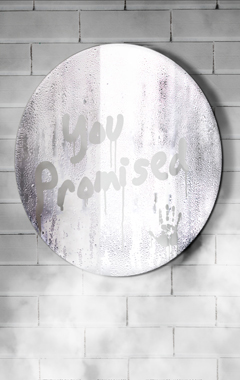 You Promised
1:00 PM
Director: Matthew Hersh
HORROR SHORTS PROGRAM B-25
After a series of terrible decisions, a young man struggling from the loss of his wife is haunted by an unkept promise.
HRIFF Premiere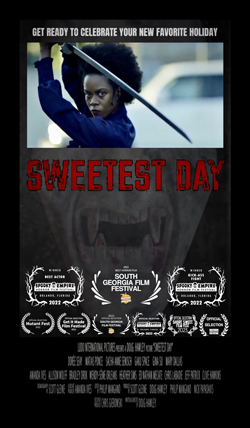 Sweetest Day
1:00 PM
Director: Doug Hawley
HORROR SHORTS PROGRAM B-25
In the Midwest, Sweetest Day is a holiday to share a kind card, candy treat, or gift with your Sweetie. It also marks the day that The Sweetest Day Ripper, thought to be the undead spirit of a Confederate Soldier, rises from the dead and goes on a murderous rampage. Mindy, the sole survivor of one of his killing sprees, discovers he is returning again. In an attempt to save herself and her town from certain death, Mindy prepares for the fight of her life. Get ready to celebrate your new favorite holiday that you probably have never heard of.
California Premiere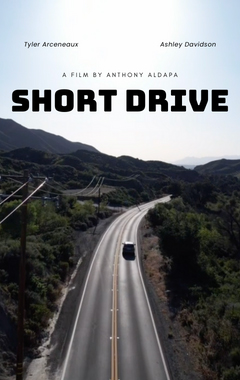 Short Drive
2:00 PM
Director: Anthony Aldapa
DRAMA SHORTS PROGRAM C-25
Chuck is a down on his luck construction worker who has decided he no longer has the will to live. After setting out on a drive with the intent of ending it all, he meets a stranger that may or may not change his outlook on life.
California Premiere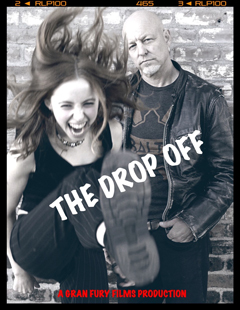 The Drop Off
2:00 PM
Director: Jack Mikesell
DRAMA SHORTS PROGRAM C-25
Whitney's stuck on a road trip with her dad, en route to her freshman year of college. Dad's hoping for some quality time with his daughter—despite the ongoing tension between them—but Whitney can't give an inch. When "goodbye" proves harder than she ever imagined, Whitney finds peace in a desert dream.
World Premiere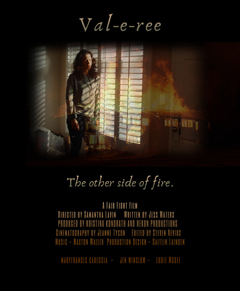 Val-e-ree
2:00 PM
Director: Samantha Lavin
DRAMA SHORTS PROGRAM C-25
Val, a former firefighter, is incapacitated by agoraphobia due to a sexual assault at work. Now, she finds herself angry, jobless and alone, living among a bunch of social misfits at a week to week motel. When a package is delivered to the common mailbox rather than her door, she knocks on the wall to ask Lorrie, her neighbor, for assistance. When help doesn't come in the form she was expecting, Val must find a way to summon the person she used to be in order to brave the sunlight.
World Premiere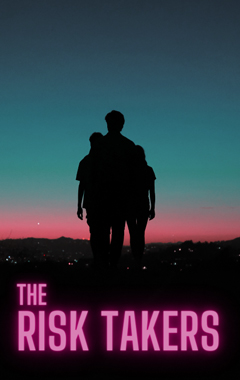 The Risk Takers
2:00 PM
Director: Xano Alexander Cuervo
DRAMA SHORTS PROGRAM C-25
Xano, Daisy, and Irrfan are three young minorities who hit rock bottom on their quest to achieve the Hollywood dream. After particularly stressful days at work, the three decide to stop being "feathers in the wind" and take control of their destinies. They will create opportunities for themselves. They will make their own feature film.
But they have a problem: No funding. The three get word of a drug deal that needs transporters, offering enough money to fund their feature. Desperate and seeing no other way to fund their project, they decide to take the risk.
The trio meets with a Hollywood drug kingpin. But things go terribly wrong as the three find themselves in the fight for their lives.
World Premiere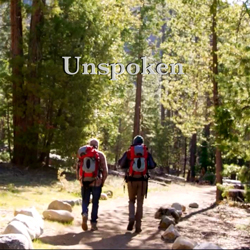 Unspoken
3:00 PM
Director: Andrew Curtis Stark
FAMILY SHORTS PROGRAM D-25
Unspoken follows an estranged father and son as they go on a long awaited Camping trip. The story explores the tension and unspoken trauma that develops between the relationship of a parent and their child, the necessary and difficult steps to overcome them, and the difficult process of dealing with the grief of loss.
HRIFF Premiere
-

Feb 25th, Regal Cinemas LA Live
G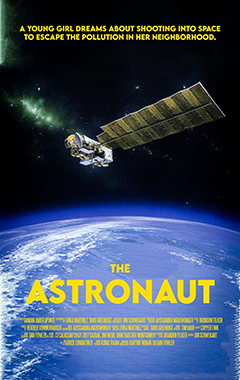 The Astronaut
3:00 PM
Director: Damián Apunte
FAMILY SHORTS PROGRAM D-25
Seven-year-old Aura loves everything space. She looks out her window, wishing she could escape the surrounding smog that's causing her asthma. Her vivid imagination keeps her spirit alive. Every Sunday, she dresses up like an astronaut and takes her abuelita to the lighthouse, in hopes that one day it'll turn into a space shuttle. Today is the day her dreams come true, she becomes an astronaut.
HRIFF Premiere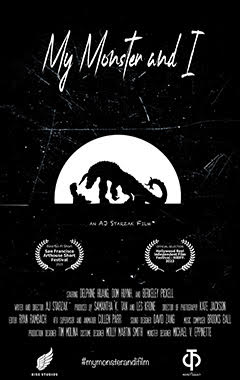 My Monster & I
3:00 PM
Director: A.J. Starzak
FAMILY SHORTS PROGRAM D-25
Set in 1998 San Francisco, My Monster and I is a sci-fi-fantasy story about a 12 year old Asian American girl, named Sydney Li, who confronts the monster under her bed only to discover that the mysterious creature is as lost and lonely as she is. Syd hides her new friend from her father, Jack Li, but all hell breaks loose when Jack discovers Monster and Sydney uses her new found bravery to face her abusive father.
World Premiere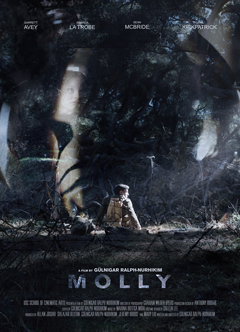 Molly
3:00 PM
Director: Gülnigar Ralph-Nurhikim
FAMILY SHORTS PROGRAM D-25
Molly is a historical war fiction made at the USC School of Cinematic Arts. It is set in the early fall of 1918 when the United States enters WW1 abroad and grapples with Spanish Flu at home. Private John, a New Mexico native, is one of the unfortunate soldiers on the WW1 battlefield in France. After a devastating attack on his platoon, his family back home in the US is misinformed about his death. The parallel storylines of abroad and home continue as the film explores universal themes such as hope and loss.
World Premiere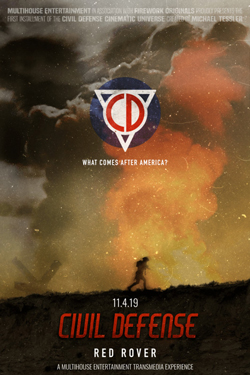 Civil Defense: Red Rover
4:00 PM
Director: Julia Tranfaglia
SHORTS PROGRAM E-25
Civil Defense: Red Rover explores a world where the Cold War has turned hot and the United States is shattered after several major cities have been destroyed by nuclear bombs. Amidst this chaos and civil conflict, a young Civil Defense radio technician must fight to protect the last hydrogen bomb from falling into the wrong hands. Despite lacking proper training, she and her fellow Civil Defense volunteers risk it all to protect the America they once called home. While they await backup, Civil Defense holds down a Forward Operating Base where the bomb is being kept. However, several warring factions vie for control of this weaponry that could have catastrophic consequences.
HRIFF Premiere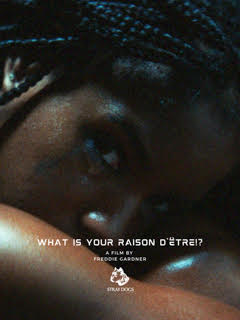 What Is Your Raison D'être!?
4:00 PM
Director: Freddie Gardner
SHORTS PROGRAM E-25
A young woman, Demi, is held captive in a secluded lab as she goes through a series of experiments to test her supernatural abilities. Dr. Proto, a scientist, creates a high-tech device in hopes of controlling Demi's abilities.
HRIFF Premiere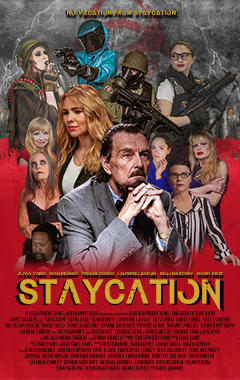 Staycation (trailer)
4:00 PM
Director: Russ Emanuel
SHORTS PROGRAM E-25
The world deals with a highly contagious and mysterious virus. Lead virologist Edward Bellows plays tête-a-tête with hard-hitting journalist Grace Baxter as the world collapses under the weight of a global pandemic. She holds nothing back as she fires question after question, seeking answers from the beleaguered professor. Meanwhile, Britt and Marnie, college roommates being forced to live together, must deal with their newfound realities of this global pandemic. And, a couple Matt and Cathy, stuck in lockdown and separated between continents, spend some belated quality time via webcam toasting to foreign brandy and reminiscing on the past.
Award Winner - Best Trailer
HRIFF Premiere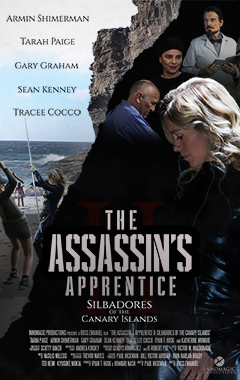 The Assassin's Apprentice 2: Silbadores of the Canary Islands
4:00 PM
Director: Russ Emanuel
SHORTS PROGRAM E-25
Kaylee, an apprentice assassin for TAA Corp., is taking a long-deserved vacation in the Canary Islands, when her Freerunner drone arrives to project a holographic image of Rick, her handler.
Kaylee follows the Freerunner drone to the TAA Corp.'s Canary Island headquarters, where F.A.D., a rival group of counter-assassins, are on the island to eliminate TAA Corp.'s drone trainers, known as "Silbadores."
Kaylee drives her ninja motorcycle at breakneck speeds along beautiful coastal roads to TAA Corp.'s drone training grounds to try and save the Silbadores from deadly Swarmbots.
A final showdown with the F.A.D. counter-assassins Sork and Karla ends with a surprising result.
World Premiere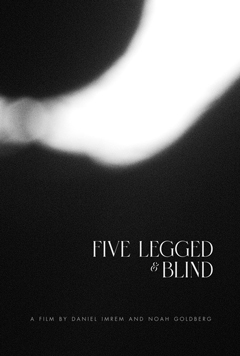 Five Legged & Blind
4:00 PM
Director: Daniel Imrem & Noah Goldberg
SHORTS PROGRAM E-25
Five Legged and Blind is a non-narrative experimental short film, focusing on textures, movement, and light. Its subject is an alien creature, which is examined through a variety of close-up shots, further exaggerating the animal's odd anatomy.
World Premiere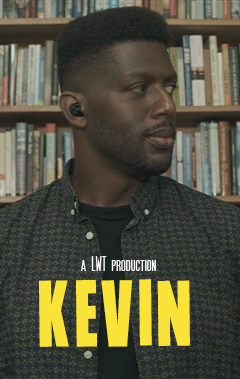 Kevin
5:00 PM
Director: Tony Moore & Wesley Quinn
LGBTQ SHORTS PROGRAM F-25
A chance encounter with a stranger, Alex, (Rique) at a record store leads Kevin (Tony Moore) on an over-thinker's journey to discover what this new relationship is.
HRIFF Premiere
Lux Freer
5:00 PM
Director: Cynthia Gibb
LGBTQ SHORTS PROGRAM F-25
Lux Freer, a middle-class, non-binary teen (played by non-binary teen Echo Bodell) has recently moved to ritzy Westport, where they have the humiliating after-school job of delivering pizzas. Nothing could be worse than arriving at aspiring prom queen Arabella Astor's mansion driving a beat-up woodie wagon and wearing a cap emblazoned with pepperonis. Lux's encounter there with the bully Arabella and her kind-hearted beau Drew sets in motion a plot to upend the social stratosphere at Westport Academy. A mysterious wishing well adds to Lux's world opening up into a place of possibility rather than a place they never fit in. At the school's talent show, Lux's fantasy comes true and even the most macho jock in town learns something about tolerance.
World Premiere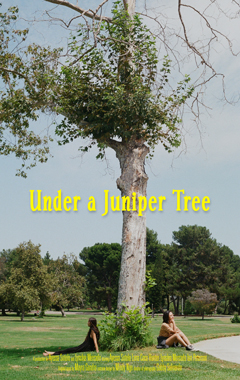 Under A Juniper Tree
5:00 PM
Director: Lynslee Mercado
LGBTQ SHORTS PROGRAM F-25
Under a Juniper Tree is a romantic horror loosely based on the Filipino folklore creature–the batibat.
A young woman named Dara meets a woman named Juniper in her dreams, not knowing that Juniper is a creature who intended to kill her all along. Dara quickly becomes infatuated with Juniper, half because she's enchanted by her, and half because she feels safe knowing that Juniper is only in her dreams. As their relationship grows, Juniper becomes infatuated as well, and she develops a desire to come out to the real world and see the one person that has enchanted her in return.
World Premiere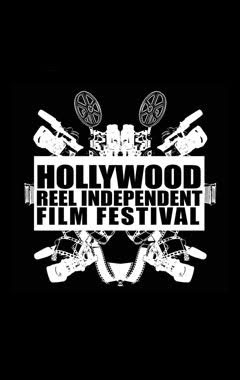 Arch
6:00 PM
Director: Abigail Carver & Shae Dornan
DRAMA SHORTS PROGRAM G-25
In a darkened, mysterious Los Angeles apartment bedroom, a couple makes passionate love after hooking up for a short, one-night stand. Following sex, the thin sandy-haired man, 40ish, questions the health and flexibility of his 20ish female companion – a curvy, dark-haired college student who is trying to find her way in a world she has yet to explore or come to terms with. Sometime later, while taking a shower the young girl tests her flexibility as she explores and questions her own place in society.
World Premiere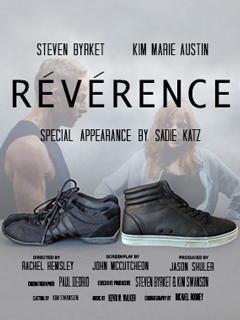 Révérence
6:00 PM
Director: Rachel Hemsley
DRAMA SHORTS PROGRAM G-25
Set in the world of dance, RÉVÉRENCE is a story of relationships which resonates with audiences of all backgrounds. The story is told through the eyes of two dancers who began on the same path yet went completely different directions in their careers and destiny. Through tragedy and the person who pulled them apart, a new misfortune causes them to reunite, gifting them new clarity - even if it is just for one fleeting moment on the dance floor.
HRIFF Premiere
The Flower That Never Wilts
6:00 PM
Director: Chris Shaw
DRAMA SHORTS PROGRAM G-25
Simon, a prodigy painter, living the playboy lifestyle of 1970's Hollywood, finds his career fading as his work isn't what it used to be due to the tragic loss of his wife. Not only is Simon's art suffering, but his outlook on life is slipping into darkness, despite his childhood friend and art dealer remaining by his side. After Simon is broken by the reality of his decisions, a still life model walks into his world and challenges his perspective.
World Premiere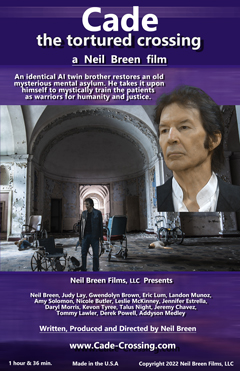 Cade-the tortured crossing
6:45 PM
Director: Neil Breen
An identical AI twin brother restores a mysterious mental asylum. He takes it upon himself to mystically empower the patients as warriors for humanity and justice.
World Premiere of the newest Neil Breen film - his first new film in five years, and his first official sequel (to 2018's Twisted Pair).
Featuring a Q&A with director Neil Breen after the screening.
Best Fantasy
People's Choice Award Nominee
World Premiere
-

SOLD OUT!
Feb 25th, Regal Cinemas LA Live
PG-13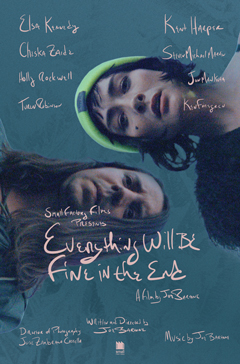 Everything Will Be Fine In The End
9:45 PM
Director: Joe Bartone
Guided by the fourth wall insights of the urban shaman Isaiah, the young woman George, her best friend Kai, and friend Renka find their aimless existence defined by a single act of violence when they murder a woman during a break-in.
Buzz has stolen George's dog, while George convinces her friends of a plan to get even if they had the means. She proposes they acquire the cash by robbing her OCD employer Julia where George works as her house cleaner. Meanwhile, haunted by Julia's ghost, George deals with the consequences of her choices and nearly destroys her friendships. Renka, betrayed by George, seeks out Buzz for help, which comes at a great cost to all three friends and the lost dog.
HRIFF Premiere
-

Feb 25th, Regal Cinemas LA Live
>
R