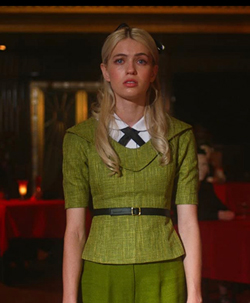 The Blue Rose
12:00 PM
Director: George Baron
Two rookie detectives set out to solve a homicide, but end up in an alternate reality made up of their worst nightmares.
HRIFF Premiere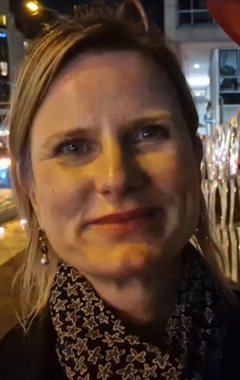 Vigil
(GERMANY)
2:00 PM
Director: Alexander Tuschinski
SHORT PROGRAM A-1
In front of the German ministry of health in Berlin, a nurse organizes a 24 hour vigil with several activists. Screening with Whisper and Laugh as part of a series of documentaries of life on the ground in Germany 2022, where politics and mandates create social tension, as seen from the lens of director Alexander Tuschinski.
HRIFF Premiere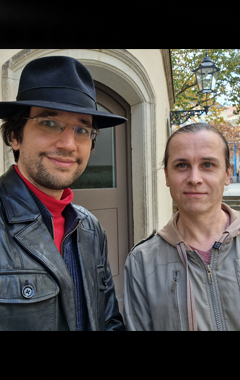 Whisper and Laugh
(GERMANY)
2:00 PM
Director: Alexander Tuschinski
SHORT PROGRAM A-1
Yann Song King is a musician who uses subtle humor to criticize health policies in this empathic portrait of a musician peacefully protesting. Screening with Vigil as part of a series of documentaries of life on the ground in Germany 2022 where politics and mandates create social tension, as seen from the lens of director Alexander Tuschinski.
HRIFF Premiere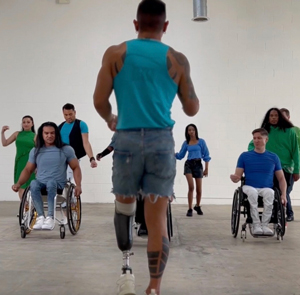 LGBT Coming Out
3:30 PM
Director: Kristina Korobkova
A disabled Russian man living in Los Angeles found his voice and identity about his sexual orientation and freedom.
HRIFF Premiere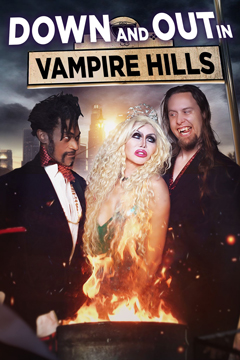 Down and Out in Vampire Hills
5:00 PM
Director: Craig Railsback
HORROR PROGRAM B-1
Facing eviction, a houseless Vampire and her familiar get a series of jobs in hopes of making enough money to buy a condo in Southern California.
Can a blood drinker make it in the modern world?
HRIFF Premiere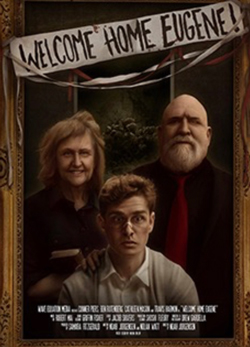 Welcome Home, Eugene
5:00 PM
Director: Noah Jorgensen
HORROR PROGRAM B-1
Harry, a teenage orphan, is kidnapped by a deranged couple and forced to undergo a demonic ritual. The following day, he is greeted by the ghost of the couple's dead son, Eugene, who informs him that his parents attempted to resurrect his soul.
Harry quickly realizes that neither of them are interested in sticking around and devises a plan to escape. With Eugene's help, Harry maneuvers a harrowing night with the couple, who believe the orphan to be their real son.
HRIFF Premiere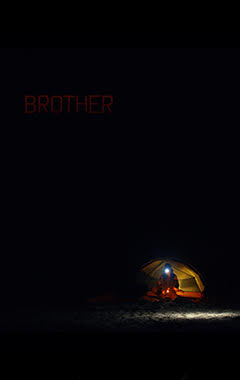 Brother
5:00 PM
Director: Kristofer Pitzek
HORROR PROGRAM B-1
Two romantic partners, Mariah and Justin, backpack together in the coastal woods of Northern California when they run into a strange man. The man asks a few harmless questions before leaving their camp, but Mariah begins to panic, insisting they go home.
The thing is, they're too far from the trailhead to go back. They decide to camp somewhere new to avoid the man... but it may not be enough.
World Premiere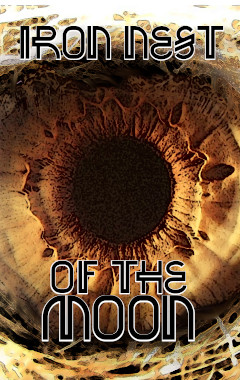 Iron Nest Of The Moon
6:00 PM
Director: Brad C. Wilcox, Kerr Lordygan, Rachel Kanouse, Justin T. Bowler, Laura Lee Bahr
Iron Nest of the Moon is an anthology series based on the mysterious stories of dreams and dreamers. Viewers are guided through a myriad of twisted, macabre, and darkly comic stories by our hostess, Sandy the Sandwoman, a birdlike presence inhabiting the moon, who must feed her children on nourishment from the eyes of the dreamers of Earth.
The six-episode series was created by members of the Eclectic Company Theatre, a non-profit playhouse. Episodes have been assembled into a feature-length film with performances by Amanda Wyss (Nightmare on Elm Street, Better Off Dead, Fast Times at Ridgemont High, Highlander), Ivy Jones (Baskets, Little House on the Prairie), Kerr Lordygan (Pam & Tommy, Super Drags), & Brad C. Wilcox (Anamnesis).
World Premiere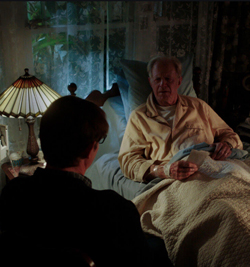 A Ghost Story
7:15 PM
Director: Melissa Bruning
DRAMA PROGRAM C-1
Do you have a ghost?
In the dark of night, Peter, a hospice therapist, arrives at the bedside of his patient. Charlie, a World War II veteran, who knows the end is near and decides to tell Peter about a traumatic event he had during the war. The loneliness and pain he felt brought to him a ghost, who has followed him his entire life. Peter, rather than doubting, shares a story with Charlie he has never told anyone.
A Ghost Story explores the unknown, and looks at the connections that exist between life and death.
Best Actor in a Short Film - Ed Begley Jr.
HRIFF Premiere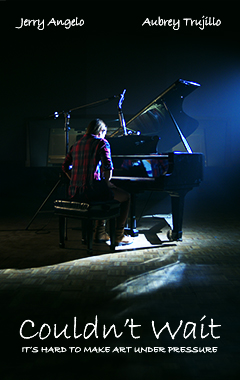 Couldn't Wait
7:15 PM
Director: AJ Martinson III
DRAMA PROGRAM C-1
A light-hearted story about a struggling musician failing miserably at being a recording artist.
Written by and starring Opera singer Aubrey Trujillo and acclaimed actor Jerry Angelo, this film explores how difficult it is to create art under pressure. Directed by award-winning filmmaker AJ Martinson III and photographed by Nate Weaver, this movie will take you right into the recording studio, and show you the power of believing in yourself.
California Premiere
The Ritz
7:15 PM
Director: Allex Tarr
DRAMA PROGRAM C-1
During one hot summer night in the dusty town of Shawnee, Oklahoma in 1950, a sixteen-year-old girl named Delores must decide whether to remain trapped with her abusive father, Chester, or elope with her new beau, Johnny.
With the help of Don – Johnny's jazz piano-playing fourteen-year-old brother – Delores and Johnny hatch an escape plan, but will they make it to sunrise without getting caught by Chester?
Based on a true story.
World Premiere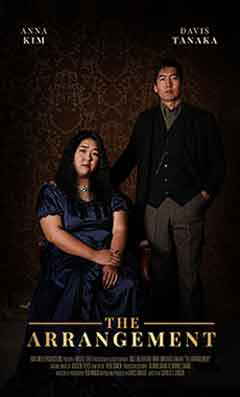 The Arrangement
7:15 PM
Director: Charlie S Jensen
DRAMA PROGRAM C-1
Gus and Anna set out to steal the same jewel, with no idea that the real danger they'd face would be navigating the complicated and treacherous waters of their estranged relationship.
In their getaway carriage, they attempt to deal with the final part of the heist: the fencing of the jewel, but find that they must reconcile their past in order to survive their immediate future.
Years of independence, self-reliance and grievances stand in the way of an arrangement that guarantees their success. The clock is ticking, but if they can come to an agreement on a new way of working and a new understanding of each other, they may find that the freedom they both seek lies in a new direction for both of them.
World Premiere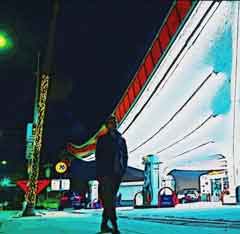 Todd Tarantula
8:15 PM
Director: Ansel Faraj
A psychedelic journey across Los Angeles to find his stolen motorbike leads antihero Todd Tarantula through a time-bending experience - where he must uncover the secrets of his past.
Best Supporting Actor - David Selby
World Premiere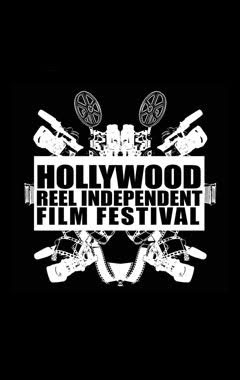 END OF FESTIVAL EVENT
8:30 PM
Our last social event of the festival is our final Wednesday Night Event.
Taking place in Los Angeles in a secret location in L.A. LIVE.
Have drinks and socialize in downtown Los Angeles, meet your fellow filmmakers and have fun after a day full of film screenings as our festival block of over 160 film screenings and events comes to close.
Buy your All Party Pass today and come to all our party event including this final fun-filled social event of the festival season!
21 and up only. No Minors.
-

Mar 1st - LA LIVE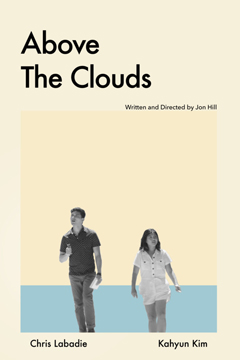 Above The Clouds
(encore screening)
9:45 PM
Director: Jon Hill
Friday 2/24 HRIFF screening has SOLD OUT - This encore event is for all those who missed out on seeing this fantastic film.
Based on real life events, Above the Clouds follows the story of Jay as he returns to Los Angeles after his father passes. After finding out his room has been rented out to a feline animal influencer, Da Pussy King, Jay escapes to a coffee shop to prepare for his standup debut at a comedy show later that night. He meets Dani, who is distraught after losing her dog Meatloaf. The two decide to embark on an adventure together that leads them into a magical day that neither of them will ever forget.
Best Actress - Kahyun Kim
Best Independent Feature
Best Picture Nominee
Encore World Premiere