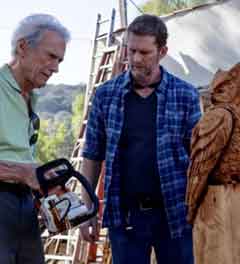 Chainsaw Artist
1:45 PM
Director: Marco Bottiglieri
After leaving home to pursue his dream of becoming the worlds best chainsaw artist and possibly vying for, not only his fathers approval, but the acknowledgment from the rest of the world, that he actually exists, Stacy ends up being a very successful artist and marries his muse Alison.
And when he decides to sculpt the seven deadly sins…
...it changes him in profound ways.
World Premiere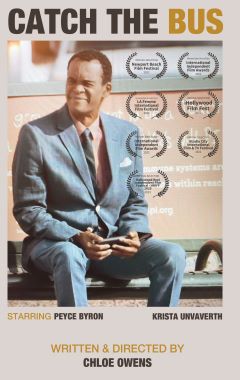 Catch the Bus
3:30 PM
Director: Chloe Owens
SHORTS PROGRAM A-2
James, an older gentleman is the last to audition as a sports anchor, and he's initially sized up to be a "no" by the producer. It took James two busses to get to the audition, so he presses forward, and as he does so, James recalls a memory that reminds him of his past, ...and all the life he's lived.
HRIFF Premiere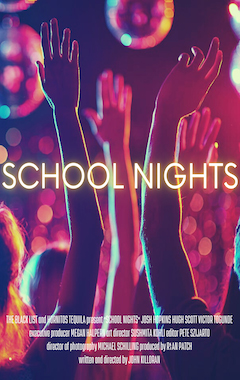 School Nights
3:30 PM
Director: John Killoran
SHORTS PROGRAM A-2
Danny, a nostalgia-prone, middle-aged man, had just left his high school reunion and was en route to an afterparty. Derailed by a car accident and with his phone out of commission, he seeks assistance at a nearby church.
It's clear that something about his surroundings is amiss before he even gets inside, and when he does, he finds, in the church basement, that a "school dance" is in progress...but it's attended by people his own age, who he knows. Danny struggles to discern if everyone is just *acting like* twelve-year-olds -- and pretending to treat him like one too -- or if something much stranger is going on.
HRIFF Premiere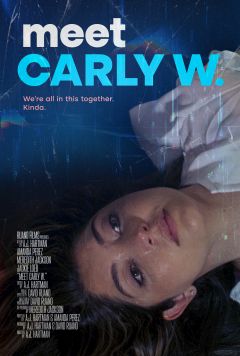 Meet Carly W.
3:30 PM
Director: A.J. Hartman
SHORTS PROGRAM A-2
A high energy comedy satire on "ZOOP" (the new version of ZOOM). We follow Carly, an ex-spatula.com employee, who is pushed to the brink when she goes on a virtual interview from hell.
The film is co-written by and stars Amanda Perez ("How We Roll") and Meredith Jackson (Fantasy Island, Ozark, Insecure, Mindhunter).
HRIFF Premiere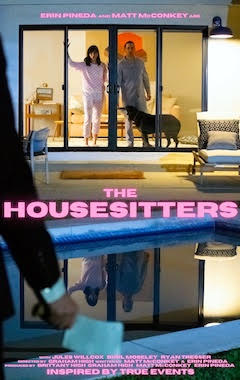 The Housesitters
3:30 PM
Director: Graham High
SHORTS PROGRAM A-2
Best friends and underemployed entertainers, Erin and Matt, house sit for their actress friend, Jules. Jules has an Emmy and a tendency to remind her house sitters just how far they are from their own Emmys. Oh, and, as it turns out, Jules's house was the site of a gruesome Hollywood murder in the '70s, which a terrifying intruder seems intent on recreating.
But she also has a pool. And a very cute dog. And Erin and Matt really need that money.
HRIFF Premiere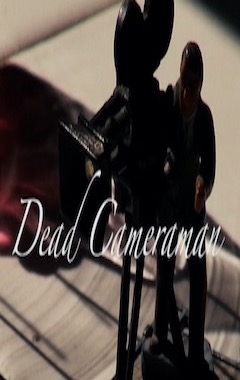 Dead Cameraman
4:30 PM
Director: Jack Aversano
SHORTS PROGRAM A-2
An ancient legend from the dawn of the very first human village. Who will go beyond and take the beast a prize? A beast that none have conquered. When a man discovers a video reciting this very myth his life is turned upside down. For suddenly he remembers that his mother read him that myth years ago, just before she disappeared. As it turns out, the young woman who posted that video has gone missing as well.
Now he must not only journey into a mysterious wilderness but also into his dark past.
HRIFF Premiere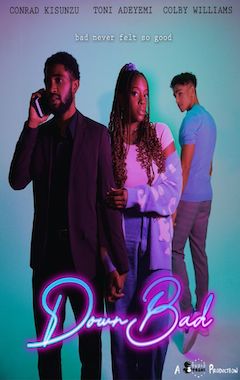 Down Bad
6:00 PM
Director: Toni Adeyemi
SHORTS PROGRAM B-2
Nia takes control by playing it safe - at her job, with her friends, and in her relationship. But after a "girls' night out" ends face-down, ass-up on a couch that doesn't belong to her fiancé. Her walk of shame hits a little different.
Pressured to hide her infidelity, the cracks in Nia's closest relationships appear right as her fiancé returns home from his work trip, and Nia has to quickly decide whether she's gonna spill the tea or "keep it together."
HRIFF Premiere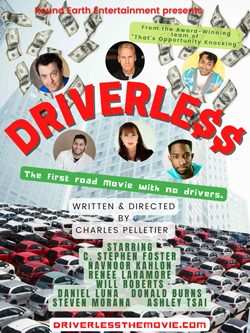 Driverless
6:00 PM
Director: Charles Pelletier
SHORTS PROGRAM B-2
From the award-winning team that created "That's Opportunity Knocking" comes a new comedy: DRIVERLESS - The first road movie with no drivers.
When all that's good about middle-class workers meets all that's bad about corporate millionaires and all that's wrong with technology, the inevitable result is a hysterical new comedy short that slashes the tires of corporate America.
HRIFF Premiere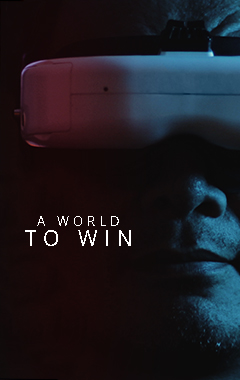 A World To Win
7:15 PM
Director: Roberto Lazarte
SHORTS PROGRAM C-2
After watching "Point Break" for the first time, Nguyen becomes captivated by the thrill of flight. However, following his first skydiving jump, he realizes it isn't for him and relocates to Los Angeles to pursue a career in Concept Art. But when he learns about FPV drones, he rediscovers his passion for flying and immerses himself in that world.
He experiments with everything from cinema to long-range drones, and eventually sets his sights on the MultiGP Championship. With his custom-built racing drone, Nguyen takes on the competition, reflecting on the journey that led him to this moment.
World Premiere
-

March 2nd, Regal Cinemas L.A. Live
G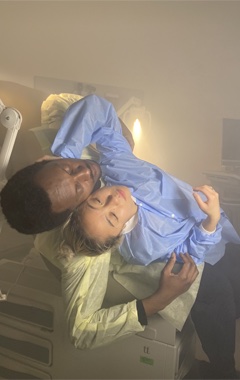 The Tender Body Sings
7:15 PM
Director: Heidi Duckler
SHORTS PROGRAM C-2
Two dancers are propelled by the emotionally vulnerable vocals of Dwight Trible to express their need to heal their trauma. Feeling lost and in anguish they enter a condition where inner and outer worlds exist together and together they find tenderness so that they are able to live with their grief.
Directed by Heidi Duckler with cinematography by 2Sides Studio the film features dancers Raymond Ejiofor and Ching Ching Wong. The film is soundtracked by Dwight Trible's vocals and Roberto Miranda on bass recorded by Marc Greene.
World Premiere
The Stack
7:15 PM
Director: Isabelle Hahn
SHORTS PROGRAM C-2
This story starts with relationship memories. The "stack" we keep after heartbreak: the ticket stubs, letters, matchboxes, articles of clothing we hang onto long after a relationship ends.
From the music and lyrics of Jack Rabbit, to the dancers, producers, and director, this story is entirely told through the lens of queer, non-binary, + BIPOC collaborators. We hope you enjoy it.
"The duo's smooth harmonies are thick with emotion as they recall the jacket, the matches, the intimacy that comes with knowing… and then the sorrow that comes with detangling your memories from another's presence." - Elle Mannion, NPR, in response to The Stack.
HRIFF Premiere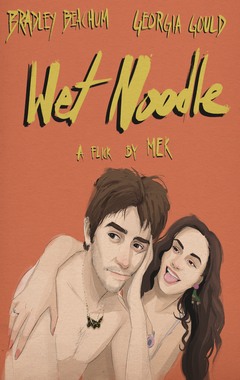 Wet Noodle
7:15 PM
Director: Mek
SHORTS PROGRAM C-2
Sunny attempts to get it on with Ray, a prostitute that he's already seen numerous times, but for some reason he's having a hard time getting aroused during this session.
World Premiere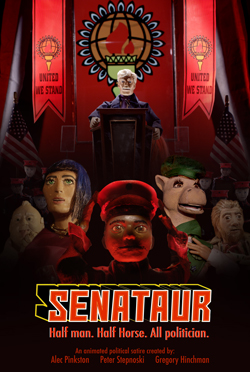 Senataur
7:15 PM
Director: Alec Pinkston, Peter Stepnoski, & Gregory Hinchman
SHORTS PROGRAM C-2
SENATAUR is a puppeteered political satire.
As hope on Earth fades, the most significant event in history occurs: ALIENS LAND IN DC!
Emerging from the spacecraft, SENATAUR (half man, half horse, all hero) claims to be on a mission to save their planet. Citizens of the world rejoice! Unfortunately, he and his companions are really just exiled intergalactic politicians sentenced to die on this godforsaken rock with the rest of us.
World Premiere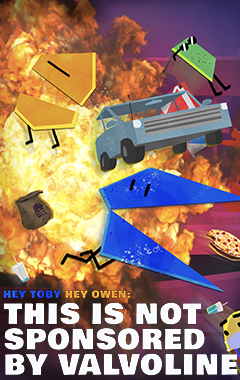 Hey Toby Hey Owen: This is Not Sponsored by Valvoline
8:15 PM
Director: Owen Dennis
SHORTS PROGRAM D-2
Toby, Owen, and Maddie, three out of work animators, go watch a movie they've never seen and get an oil change while making sure that you know this movie was definitely NOT sponsored by Valvoline. In a slice-of-life style comedy, this animated short film finds humor in the mundane and joy in the most basic pieces of our dayto-day lives.
HRIFF Premiere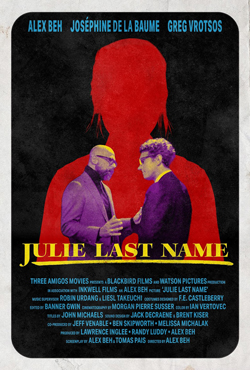 Julie Last Name
8:15 PM
Director: Alex Beh
SHORTS PROGRAM D-2
Two old friends encounter a server over dinner who won't disclose her last name while discussing life, love, The Berenstein Bears, and how the universe may have shifted the night the Cubs won the World Series.
Southern California Premiere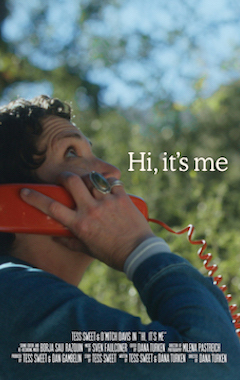 Hi, it's me
8:15 PM
Director: Dana Turken
SHORTS PROGRAM D-2
When Tess's mom died, she took some of her morphine and prayed she'd die too. Seventeen years clean, gone. The next day, she drank a glass of wine, and didn't stop there. She didn't tell anybody.
This film is a way of telling her family and friends, all at the same time.
Southern California Premiere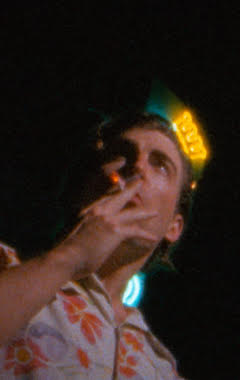 Who the F**k is Jacky Bumpers?
8:15 PM
Director: Alan Halls
SHORTS PROGRAM D-2
In a dark, grimy corner of a bar somewhere in LA, three old Barflies get to bickering about one salty, charming, two faced swindler from the past...
So, pull up a barstool, get a drink, and find out just "who the F**k is Jacky Bumpers?" in this candy colored Super 8mm film.
World Premiere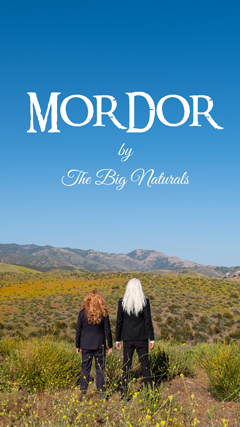 MORDOR by The Big Naturals
8:15 PM
Director: Paddy Doheny
SHORTS PROGRAM D-2
The official music video for "Mordor" by The Big Naturals, an LA-based comedy duo.
When an excited father and fan of a very "precious" franchise tries to share his fervor with his wife and child, he's rejected over and over.
World Premiere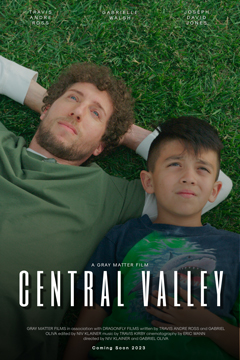 Central Valley
9:15 PM
Director: Niv Klainer & Gabriel Oliva
Tim is a 35 year old drug peddler drifting through the desolate streets of the central valley in California. His brother suddenly passes away, leaving his 10 year old son under Tim's care. Tim must make a decision to change his life for his newly orphaned nephew, or continue down his lifelong path of self destruction.
HRIFF Premiere