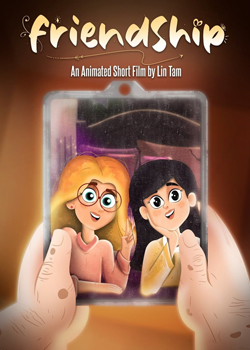 Friendship
(AUSTRALIA)
12:00 PM
Director: Lin Tam
SHORT BLOCK A-26
Friendship is the story of two childhood friends who bond together despite their different personalities and ethnicities. The short film spans their lifelong journey and portrays how they sustain their connection through challenges, celebrations, and the test of time.
HRIFF Premiere
Greg Got Fired
12:00 PM
Director: The Reggies
SHORT BLOCK A-26
Greg just got fired from his first job out of college. Lost and despondent in LA, Greg realizes how much the job truly meant to him. So when a chance arises to possibly win the job back, the pressure...is on.
HRIFF Premiere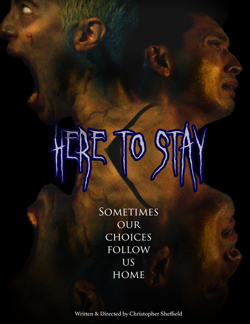 Here To Stay
12:00 PM
Director: Christopher Sheffield
SHORT BLOCK A-26
After abandoning friends and family at a funeral, Jude hides away in his home, but he's not as alone as he thinks, and sometimes the horrible mistakes you make have a way of following you.
HRIFF Premiere
Killing Georgia Jones
1:00 PM
Director: Andrew Gallerani
THRILLER SHORTS PROGRAM B-26
In an abandoned rat-infested warehouse down by the tracks, Georgia Jones awakes, only to find her hands bound tightly above her head. A hooded figure slips from the shadows, approaching his captive victim. Flashing a switchblade he prepares to strike, but hesitates. Why?
In this tense clash of wills, motives are questioned, secrets exposed, as both sides vie for power and uncover the truth.
HRIFF Premiere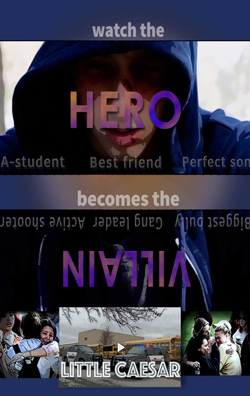 Little Caesar
1:00 PM
Director: Tony Tanglei
THRILLER SHORTS PROGRAM B-26
Tired of being victims of their public school's never-ending bullying, violence, and the school's incapability to act, two childhood friends take on two diverse paths to cope: Gabe resolves to end his own life, while Oliver determines and fights his way to become the biggest and meanest bully on campus...Now the question arises as he becomes the top predator—who is there to stop him now?
North American Premiere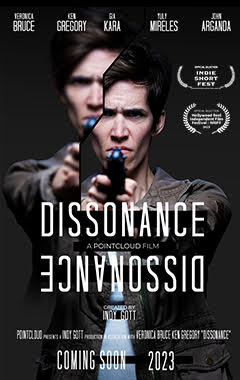 Dissonance
1:00 PM
Director: Indy Gott
THRILLER SHORTS PROGRAM B-26
A non linear psychological story about a vigilante's attempt to take back the power of the people by ending political corruption. The story begins after the vigilante kills a wild card business man. She then justifies the murder by reflecting on her past actions through her manifesto. In doing so, we explore different perspectives of each character she interacted with in her past. Those interactions then lead us to a grueling realization that is tough for the vigilante to swallow — the truth. That truth loops us in with the recurring theme of the film— reality versus fantasy.
World Premiere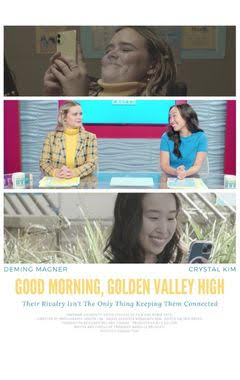 Good Morning, Golden Valley High
2:00 PM
Director: Raghav Puri
SHORTS BLOCK C-26
Good Morning, Golden Valley is a web series pilot created by a group of passionate MFA students from Chapman University that is inspired by the writer's own adventures in the world of high school morning announcements shows.
World Premiere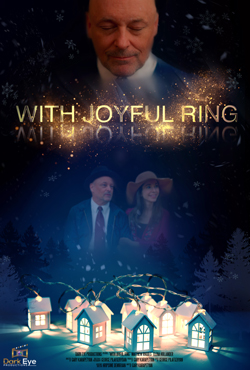 With Joyful Ring
2:00 PM
Director: Gary Karapetyan
SHORTS BLOCK C-26
In a small town in Illinois, Thomas Mitchell, a middle-aged, lonely, depressed man wakes up with the hopes of finding joy on Christmas Day. His morning routine typically begins with an antidepressant medication followed by a brief moment of staring at a picture of his wife and coping with his loss. He strives to transform his grief into joy, using the power of his five senses.
HRIFF Premiere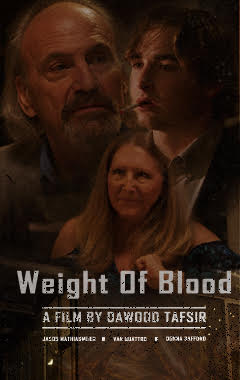 Weight Of Blood
2:00 PM
Director: Dawood Tafsir
SHORTS BLOCK C-26
When Eli is faced with a larger consequence he has dealt with before. He has been tasked with the unfortunate by having to double-cross family.
HRIFF Premiere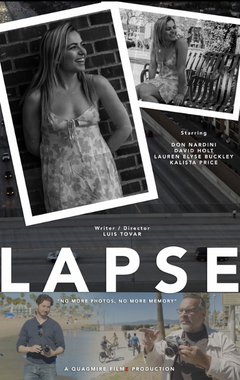 Lapse
2:00 PM
Director: Luis Tovar
SHORTS BLOCK C-26
The untimely death of a young woman brings her grieving father to Los Angeles to photograph Venice Beach, where she lived. He meets his daughter's friend, a fellow photographer, and the two exchange photos of her, in differing formats. Her father presents a set of old-school film prints and her friend gives him a digital album full of images. They each feel her presence in the photos that remain and the memories flood back. They both say their final goodbyes.
Hollywood Premiere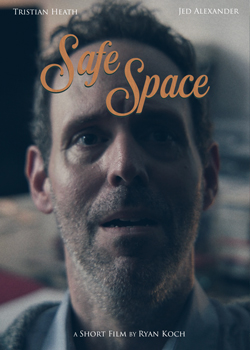 Safe Space
2:00 PM
Director: Ryan Koch
SHORTS BLOCK C-26
Dominic, a newly released convict, is required to attend therapy for his anger management issues. After seeing the accomplishments of his new psychiatrist, Doctor Brandt, an inferior feeling Dominic refuses to open up and deflects every question. As tensions boil over in the room, Dominic's own bottled-up emotions reflect those of Doctor Brandt's and the two collide in unexpected ways.
World Premiere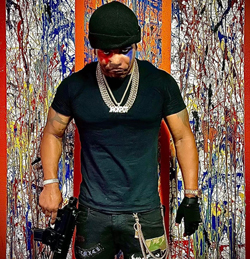 JackPot Origins: Fact or Fiction
3:00 PM
Director: Josiah "Aktion" Jackson
ACTION / COMEDY SHORTS PROGRAM D-26
From growing up as an orphan to a Hitman Assassin, Killer Santa Claus and having a Cheating Girlfriend. JackPot finds enough time to get personal and explain his childhood from past to present, but is it Fact or Fiction?
World Premiere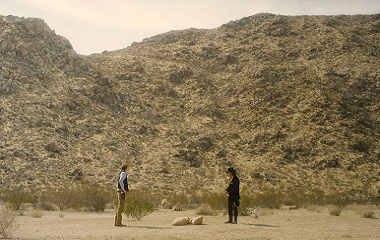 The Showdown
3:00 PM
Director: Mike Farron
ACTION / COMEDY SHORTS PROGRAM D-26
Two rival gunmen find themselves at the end of their adventure, each with two bags of stolen gold. They've lied, cheated, stolen, and killed their way to this point - or so they say. However, what should be their epic final showdown turns into a battle of wits and words rather than bullets.
World Premiere
If You Have Any Information, Please Call:
3:00 PM
Director: Dani Gomez
ACTION / COMEDY SHORTS PROGRAM D-26
Shari's bad luck with dating seems to have turned around with the smooth and handsome Brian. Too bad her sister Denise just found out he's an escaped murderer on the loose.
World Premiere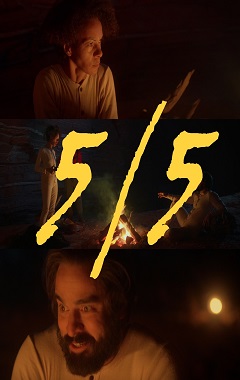 Five Fifths
4:00 PM
Director: Clinton Pickens
DRAMA SHORTS PROGRAM E-26
Five Fifths is a story of a clever woman alone in the middle of nowhere, in a time and place that doesn't even consider her to be a whole person. Henrietta has had to watch her back her entire life. Now as a freed slave on the run through the unforgiving Texas wilderness, she must be on guard yet again. This time she is confronted by a barefoot stranger that wanders out of the darkness and up to her fire. Literally between a rock and a hard place, "Hetty" must decide where the real danger lies...Is it the darkness, the stranger, the desert or the world?
California Premiere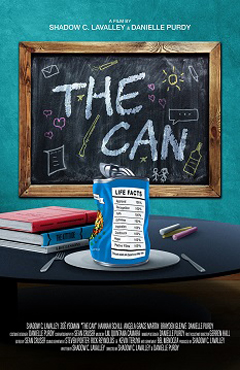 The Can
4:00 PM
Director: Shadow C. LaValley & Danielle Purdy
DRAMA SHORTS PROGRAM E-26
A broken-spirited Tim struggles to navigate love and loss, only to find the extraordinary beauty of life from an ordinary can.
HRIFF Premiere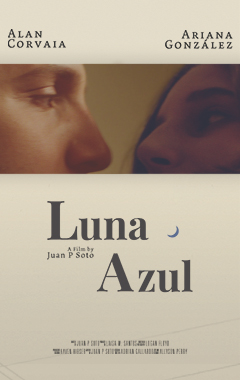 Luna Azul
4:00 PM
Director: Juan P Soto
DRAMA SHORTS PROGRAM E-26
Two Venezuelans, Laura a catholic novice nun now residing in California, and her Ex-Fiancé Carlos who lives outside of the US meet again when he finally gets the courage to visit Laura and resolve the traumatic past that both have which separated them.
World Premiere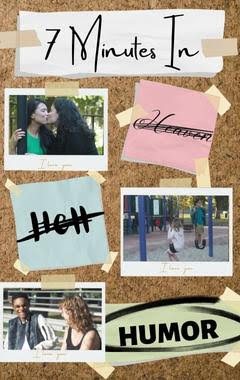 7 Minutes In Humor
5:00 PM
Director: Jennylyn Caterina & Chris Game
COMEDY SHORTS F-26
A light and charming exploration of the many humors and inconveniences of relationships at their various stages illustrated through a series of comedic and satirical vignettes.
HRIFF Premiere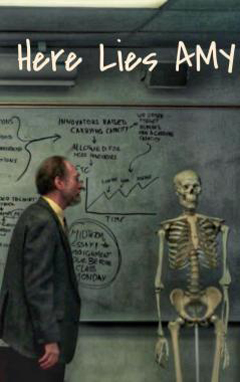 Here Lies Amy
5:00 PM
Director: Riley Thomas Stewart
COMEDY SHORTS F-26
Love is strange. So is making a film during a global pandemic. This film is an answer to that challenge--an irreverently funny, dark take on a possibly dysfunctional romance. A slightly skewed meet cute. Meet Arnie, an anthropology professor whose only friend is the skeleton that hangs in his classroom. As he gets to know the college professor down the hall, will Arnie come to terms with reality and leave the skeleton and his past behind him?
World Premiere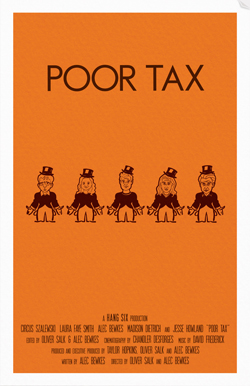 Poor Tax
5:00 PM
Director: Alec Bewkes & Oliver Salk
COMEDY SHORTS F-26
Nothing brings a family together like a friendly board game over the holidays...this is not that story. Families nowadays can be doing something as simple as playing cards, but somehow still end up arguing about Trump, BLM, and whether or not Tucker Carlson knows how stupid his bow ties look. Instead, this is the story of a family that plays monopoly to reconnect, only to have the game expose their differences and how much they've grown apart. Although focusing on such polarizing times might seem a little gloomy, Poor Tax is a whacky satire that subverts expectations and keeps you laughing.
World Premiere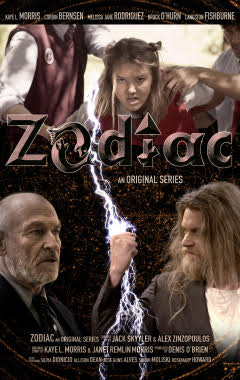 Zodiac
5:30 PM
Director: Jack Skyyler & Alex Zinzopoulos
SHORTS PROGRAM G-26
After Hades murders two teens, a power is awakened in his third victim, and Juno, escapes, teleporting through solid steel across the world where she crashes unconscious into an open field only a mile from her Gemini twin: Kali. Kali awakes with a psychic link to Juno and telekinetic powers. Kali's telekinetic powers are first triggered by her school bully, and they make her a target for Hades who is hunting both Juno and Kali as he attempts to overthrow his brother Zeus. Both mortals and Gods will be caught in a struggle that brings the earth to the brink of the apocalypse.
World Premiere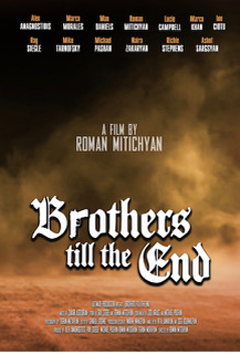 Brothers Till The End
5:30 PM
Director: Roman Mitichyan
SHORTS PROGRAM G-26
When an inner city Los Angeles Millionaire (Carmine D'amico) discovers that his wife and family were murdered in their home, his troubled childhood best friends suspect it was no random killing. To seek revenge all the men go not the hunt for the neighborhood criminal kingpin, (Benny Randazzo) and his crew while being trailed themselves by local law enforcement to investigate a bloodbath of death trails.
World Premiere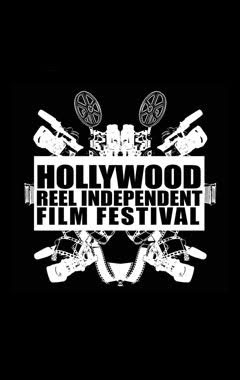 SUNDAY POPCORN RECEPTION
5:45 PM
Meet the HRIFF Award Ceremony Hosts as they oversee (limited quantities) of Free Popcorn while you mingle with festival filmmakers and festival guests.
Socialize with your fellow filmmakers & have some fun during a full day of festival film screenings, at this fun-filled not-to-be-missed event.
And if you missed the Red Carpet Press Event or just want more photos:
Have fun with photos this Sunday on the Step & Repeat at the Sunday Popcorn Social.
Reception Events all take place at L.A. LIVE in locations to be announced.
-

Feb 26th - LA LIVE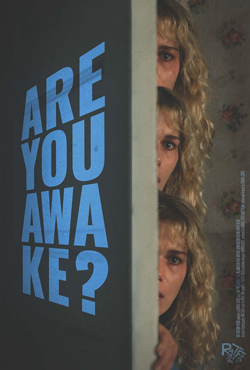 Are You Awake?
6:30 PM
Director: Gabriel Caste
THRILLER SHORTS H-26
This psychological thriller follows Dale, a detached woman who earns a living by waking strangers up in the morning. She spends her day making house calls, after agreeing to stand-in for a colleague. Dale enters a client's house, and is unsettled by the mess she finds. Bradley, the client, explains he's been plagued by nightmares, and refuses to get out of bed. Though Dale feels obligated to convince him otherwise, she can't help but form a pitiful kinship with the man paralyzed by his own dreams.
Los Angeles Premiere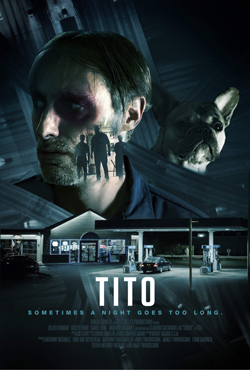 Tito
6:30 PM
Director: Anthony Notarile & Andy Tworischuk
THRILLER SHORTS H-26
Caught in a rut at his thankless job in New York City's seedy underworld, a worn out delivery driver attempts to find purpose in his life. As he struggles to navigate a city that feels like Hell, The Delivery Man finds comfort in his only friend, a dog named Tito. Distraught and desperate to change the course of his life, a chance encounter at a gas station might solve his problems once and for all.
HRIFF Premiere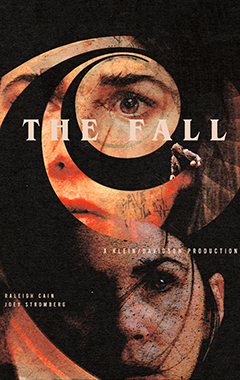 The Fall
6:30 PM
Director: Jason Musante Klein
THRILLER SHORTS H-26
While on a hiking trip, a young woman finds herself trapped in the woods after her boyfriend mysteriously disappears.
World Premiere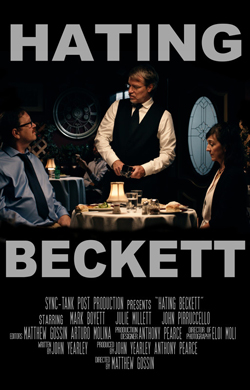 Hating Beckett
7:30 PM
Director: Matthew Gossin
DRAMA SHORTS PROGRAM I-26
A couple's post-theater dinner date turns confrontational as the pair discuss the merits of Samuel Beckett's Rough for Theatre II. Things escalate to the point of shared trauma, bitter recriminations and hurled bread rolls — and it becomes clear they have a few issues to work out.
World Premiere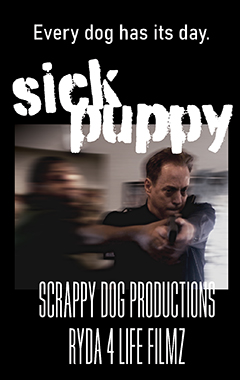 Sick Puppy
7:30 PM
Director: JayTee Thompson
DRAMA SHORTS PROGRAM I-26
Sick Puppy: While serving a search warrant at a man's home, a callous policeman shoots a family member without cause. Left to pick up the pieces of his traumatized family, Calvin hires an attorney seeking justice. When the legal system fails him, Calvin must decide if street justice is really what he's after. In the climatic scene, we learn just who really is the "sick puppy".
HRIFF Premiere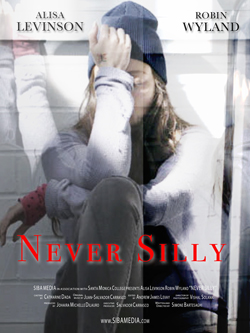 Never Silly
7:30 PM
Director: Simone Bartesaghi
DRAMA SHORTS PROGRAM I-26
A young woman hides in an empty classroom away from classmates, teachers, and friends. She believes to be at the end of her rope and she makes a dramatic decision. When another distraught student storms in looking for a quiet place, their relationship will teach them something important about themselves and about others.
World Premiere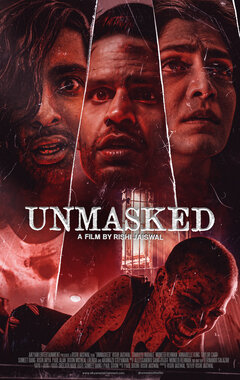 Unmasked
8:30 PM
Director: Rishi Jaiswal
A gripping thriller that takes you on a journey through the suburbs of LA during the pandemic. When a group of friends, including medical school dropout Vijay and his cousin Salim, find themselves plagued by a series of murders, they must navigate a maze of suspicion and deceit in order to uncover the truth. The story begins with Vijay, down on his luck and recently evicted from his apartment, crashing at his cousin Salim's house. But what starts as a fun Halloween party quickly turns into a nightmare when they wake up to find the dead body of one of their friends.
As the group frantically tries to piece together what happened the night before and figure out who killed their friend, they soon realize that they may be next. With each passing day, the stakes get higher as the killer continues to pick them off one by one. Will they uncover the truth before it's too late?
World Premiere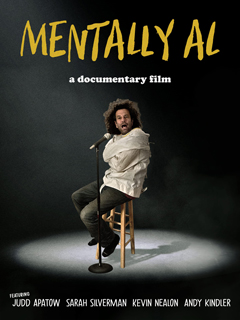 Mentally Al
9:45 PM
Director: Joshua Edelman
A character study of, "the funniest comedian you've never heard of," and an exploration of how we define artistic success, MENTALLY AL follows Al Lubel, a former Star Search grand champion as he struggles to get by, perpetually broke and sleeping on friends couches, as he continues to pursue his artistic dreams into his sixties.
HRIFF Premiere